6/11/16: I came across a big surprise yesterday—DESTINY IN SYDNEY is on Wikipedia! According to its "View History," the webpage was created over two days, March 18-19, 2016. No one told me about it or asked me to review a draft. I don't know how I missed this for nearly three months! Nevertheless, it is well written, accurate, and I'm very pleased. Reviewers are interacting with it and are making revisions. There's no indication on the Wikipedia page of who created it. If the creator reads this, I would appreciate if he or she would contact me, so that I can thank them personally. I've noticed a slight uptick in sales over the recent months and this could be part of the reason. Regarding total sales of the paper book and ebook since publication on July 1, 2012, as nearly as I can tell from receipts, I've sold over 5,000 copies. That may not sound like many sales over four years, but for a debut self-published author it's pretty good, well above average, I believe. And DESTINY IN SYDNEY continues to sell well as an "evergreen" novel, because people who visit Sydney will buy it before or after their visit to learn more about the lovely city. Therefore, the novel and its sequel will continue to have staying power. James Michener proved this to be true with Hawaii and other multigenerational "place" novels.
8/18/15: I've been feeling a little down because there have been so few

reviews of my novel GIFT OF SYDNEY. It's because I've done little or no marketing. But I've just received an amazing review from an Amazon "Hall of Famer" (only 130 of them) who is also #72 in Amazon's "Top 100 Reviewers." He wrote a long, complimentary 5-star review finishing with the following:

"Richards manages to energize this history book with such vigorous humanity that had we not been informed this is an historical novel it would be easier to believe this is simply a splendid story. Well written, exquisitely researched, and delivered in well-scribed prose, this is an important book, but also an exceptionally fascinating read."
This a huge big deal for me, because these top Amazon reviewers do not review nobodies like me. They review almost exclusively the free books provided by the five major publishers—and he BOUGHT my novel! I know this because it says "Paperback Verified Purchase" next to his reviewer's name. I just wrote to him asking how he found GIFT. My guess is he has been to Sydney and loves the city or wants to read about it before going there.
Now to pop the champagne!

4/24/15: A week ago, I received a wonderful review of GIFT OF SYDNEY from the prestigious Midwest Book Review that I would like to share with you:

"A truly gifted storyteller, Manning Richards' GIFT OF SYDNEY continues to display his impressive attention to historical detail and his ability to deftly create truly memorable characters embedded in a consistently gripping narrative. A totally satisfying entertainment from beginning to end, GIFT OF SYDNEY will leave enthusiastic readers looking forward to the third volume in this outstanding series. For those to whom GIFT OF SYDNEY is their first introduction to Manning Richards, also highly recommended is the first title in the series, DESTINY IN SYDNEY."
The review was provided to Aries Books and printed in Midwest Book Review's April publication of "Small Press Watchlist" of recommended books.

4/15/15: Well . . . I must admit that I've been terribly negligent in keeping up my journal, as a few of you have informed me. Since leaving Sydney on October 19, Judy and I have simply been too busy enjoying life with a cruise around Tahiti and French Polynesia, visiting family and friends in California and Florida, sailing bareboat in the British Virgin Islands, and celebrating Christmas and New Year's with family and friends in New York, Pittsburgh, Washington DC, and Georgia. In January and February, we skied five weeks in Utah and Colorado. During all this time, I still found time to work on my next novel Paris in Ruins: A Novel of Passion and the French Résistance. Now, finally, we are settled in our apartment in St.-Germain-des-Pres, Paris, France, until November 30, 2016. I am writing from the private, nonprofit American Library near the Eiffel Tower that has a marvelous history section where I can read French and German history about the "Battle for Paris" in 1944—in English!
Unlike Destiny in Sydney, which I promoted well through talks that resulted in fifteen favorable Amazon reviews, I have not promoted Gift of Sydney at all. Consequently, I have received only four reviews. However, these favorable reviews have resulted in the same 4 1/2 stars out of five that Destiny in Sydney has received. I am very pleased that readers have written or told me that they enjoyed both novels equally, sometimes for different reasons.
If you are so inclined, I would greatly appreciate your review of Gift of Sydney on www.Amazon.com. It's easy to do, just click the button beneath the other reviews that says "Write a customer review" and follow the five simple steps. You may use a pseudonym if you like. It's fun to check every so often to see how many readers "found your review helpful."
9/2/14: The novel is done for all practical purposes and the October 1 publication date is pretty much assured. The ebook will come out a week or so later in October. I did not leave adequate time to garner many reviewers comments or praise, although, my Aries Books' readers reported that they liked Gift of Sydney as much or more than Destiny in Sydney, a hopeful indication that the novel should be well received.

7/18/14: I am working on the final editing of the sixth draft of Gift of Sydney. It appears that the novel can be completed before I leave Sydney. The publication date is now October 1, 2014.

5/2/14: I've let the completion of Gift of Sydney languish too long while I did other writing, promoted Destiny in Sydney, and enjoyed life in this wonderful city. I became serious about completing the novel only several months ago, after we decided to leave Sydney in November of this year. Now I'm concerned that I may not be able to finish the novel and see Aries Books publish it before leaving Sydney.

7/30/13: Sorry I haven't written for five months, but I've been busy. Marketing is something a debut novelist must do to be noticed, and it takes a lot of time: arranging and giving talks, placing my novel on Internet book websites, encouraging more bookstores to carry my novel, making sure all of the Sydney libraries carry at least one copy, answering all emails received from readers, Skyping with book clubs, and unsuccessfully trying to arrange a radio interview and major book review by a Sydney or Melbourne newspaper. Sales were good for six months through Christmas, then fell, then increased, and went up and down again, stabilizing for the past three months at less than ten paper and ebook sales a week. Most sales have been in Sydney, followed by Washington D.C., California, and then London, a distant fourth.
The sequel, Gift of Sydney (the name has been shortened to better fit the cover and to coordinate with Destiny in Sydney) may not make the December 1 publication date because of all the marketing I've done, and because I've been working on my third novel.
In the course of deciding where we would like to live next, I've been drawn into researching and writing Paris in Ruins: A novel of passion and the French Résistance. It is a historical thriller set in Paris following D-Day when Hitler ordered that the city be "left in ruins," its bridges and many landmarks destroyed, as the German military retreated. Based on the true events that sparked the "Battle for Paris" from August 19-25, 1944, it is the story of a love triangle involving a young French woman, who has lived with a German major for a year, but is convinced by her high-school lover that she must spy for the Résistance to save herself and her city. There is passion, betrayal, intrigue, suspense, and the chaos of battle culminating in unexpected consequences for the three protagonists.
We will live in Paris next to complete this novel.
2/28/13: Aries Books has obtained a book review of Destiny in Sydney by the prestigious Midwest Book Review publication, which accepts only 30% of the books submitted to it for review. I'm very pleased that they "recommended" my novel and will include it in their Book Review Index that is distributed to public libraries and academic and corporate organizations. This is their review of Destiny in Sydney that will be published in March:
"As the British rushed to call Australia their empire, many destinies were founded. Destiny in Sydney is a historical epic from D. Manning Richards telling of the foundation of British colonies on the mass of Australia, the story of many individuals as they find love where they least expect it, cope with their troubled heritage, the plagues of racism and the struggles with the people who truly own the continent. Destiny in Sydney is an exciting read for those who enjoy historical fiction, recommended."

1/15/13: Sydneysiders are asking where the paper book and ebook of Destiny in Sydney may be purchased. The following bookstores carry my paper novel or can order it: Abbey's Bookshop, Ariel Books, Better Read Than Dead, The Book Haven, Co-op Bookshop, and Shearer's Bookshop. Many bookstores do not carry it because although Destiny in Sydney is being distributed worldwide by the largest US distributor, Ingram Inc., the smaller US distributor Baker & Taylor is more popular in Sydney. Unfortunately, like all books in Australia, my novel is expensive at $30 or more. The best price available anywhere is through online retailer The Book Depository in London, UK, www.bookdepository.co.uk , that ships free to Australia within ten days for a total cost of AUS$19.64.
The lowest price for the ebook of Destiny in Sydney may be purchased for US$9.99 (around AUS$10.40) from Amazon. If you don't have an Amazon Kindle ereader, simply go to www.Amazon.com, type in "free Kindle reading app" and select your reading device (Apple ipad and iphone, Android, PC and Mac computers, etc.) from the drop-down window and download the Kindle ereader into it. When you buy my ebook Destiny in Sydney, it will be downloaded into your new Kindle ereader in less than a minute.
11/29/12: Yesterday, I had a Skype video conversation with an Alexandria, Virginia, women's reading group. It was arranged by a friend who is a member of the group. This was a first for me. Although there was a group consensus that they enjoyed the novel, the Skype call itself could have gone better. The connection was unclear because they were using a Wi-Fi connection, lighting was poor, conversations were delayed and broken leading to misunderstandings, and only one person could speak at a time to be understood. Nevertheless, there was an enjoyable give and take, and I learned from the experience. I've decided to encourage reading groups to contact me to arrange a date and time to have a Skype conversation.

11/5/12: I recently received the first reliable indication that sales are going well. It takes 90 days before any reports of sales and another 30 days, until October 30, to get a handle on sales. Also, I am pleased that the Amazon reviews have been excellent. Destiny in Sydney has received seven five-star reviews and, recently, a four-star review. I couldn't be more pleased with this confirming response. But equally satisfying are the occasional emails from readers telling me that they enjoyed the novel for a variety of reasons.

8/6/12: Exciting and wonderful news: Destiny in Sydney has received four 5-star book reviews by readers on Amazon.com in the past week! I am so fortunate that Aries Books and I did not send out emails announcing the July 1 publication of the novel in July as intended. The game plan was to send out the announcements no later than the end of July, but the number of recipients grew to over 350 and organizing them into email groups ran into August. We now have decided to hold off sending out any announcements until August 10, in the hope of receiving additional complimentary reviews that are sure to encourage the 350-email recipients to read the novel.

7/17/12: The Blacktown authors talk went well. About 30 people attended, which wasn't a poor showing for an unknown writer. I'm sure that sharing the stage with historian Jack Brook helped. Richard Jeffkins, owner of The Book Haven in the Centro Seven Hills Shopping Centre, sold six books. This is the first Australian bookstore to provide bookshelf space for the novel.

7/3/12: The July 1 Publication Date was met kinda. Both the novel and ebook are listed on Amazon, Barnes and Nobles, UK's Book Depository, and Australia's The Nile, and other websites, but the cover is listed as "No Image Available" on a few of them. Aries Books is trying to determine the problem. The Book Haven Bookstore has agreed to carry the novel and sell copies at the book signing following my first "author talk" at Blacktown Library on July 16. An Australian historian Jack Brook, who gave me a quote, arranged this first talk for me. He's a great guy, and I appreciate his support and friendship.

6/22/12: Author Support has completed the ebook in two formats and none too soon to meet the Publication Date of July 1. The process turned out to be much more involved than I had expected. I had to review the entire novel page-by-page three times to ensure that the Mobi and Epub formats were correct. Anything not regular text is a formatting problem, such as graphics, episode break symbols, bold letters and numbers, and setoffs of all kinds: poems, letters, songs, etc. Now I hope that uploading to Amazon and Barnes and Nobles goes well.

3/31/12: I have received a number of praise quotes from reviewers of the Advance Review Copies of the novel that I'd like to share with you:

"I am impressed with the depth of research that you have done,
which never gets in the way of the story."
—Dr. David Day, Claiming a Continent:
A History of Australia

"A historical novel that weaves fact and fiction into a fascinating,
enthralling story."
—Jack Brook, From Canton with Courage

"Your grasp of the history/language/geography/ships, etc. is
amazing. I'll venture that most Australians don't know their
history in this detail—all framed in a dramatic story."
—Dr. Terrence A. Brooks, "People, Words
and Perceptions"

"I found it to be an excellent read. It is certainly an epic novel
. . . that kept my interest to the very end . . . great stuff, mate!"
—Wayne J. Hughes, Librarian of the
First Fleet Fellowship

"Quite a story—a mountain of research! . . . Looking forward
to the sequel."
—Nigel Parbury, Survival: A History of
Aboriginal Life in New South Wales

3/15/12: The April 1 Publication Date of my novel has been delayed for three months to make revisions derived from reviews of the Advance Review Copies and to prepare an ebook, now that ebooks are a significant percentage of total book sales.

3/12/12: After apartment hunting for two months and partially furnishing the apartment we found in Kirribilli to create two offices, we are pretty well settled. We have an iconic view of Sydney's central business district bracketed by the Sydney Opera House to the left and the Sydney Harbour Bridge to the right. I hope the exciting view, with the comings and goings of ocean liners, tall ships, ferries, beautiful yachts, etc., will not interfere too much with my writing (poor me).

11/30/11: As my 8/19/11 first journal entry below indicates, I had intended to avoid joining Facebook for fear it would take too much time to maintain. My niece Ashley and nephew Craig convinced me over Thanksgiving that I don't have a choice if I want to promote my novel to the world. More importantly, Ashley helped me set up my Facebook account. I haven't had time to complete it, so hold off liking it (thumbs up) or disliking it (thumbs down) until I complete it.

10/28/11: Last week, Judy (my wife) received our extended-stay visas for Australia. We made our plane flight reservation yesterday to depart Washington, D.C., on December 28, celebrate the new year on the beach in Honolulu and arrive in Sydney on January 2, 2012. We hope to rent in the Iora development in North Sydney, with a view into Neutral Bay, where we lived from 2000 to 2003.

9/23/11: In an effort to participate in an efficient, computerized, and paperless 21st century, I paid to have all of our old family photographs digitized onto CD disks. When I was reviewing them, I came across the photograph below of my two sisters, Nancy and Judy, and me taken in the library of Beaver, Pennsylvania, in November 1949. We lived across the street from the library.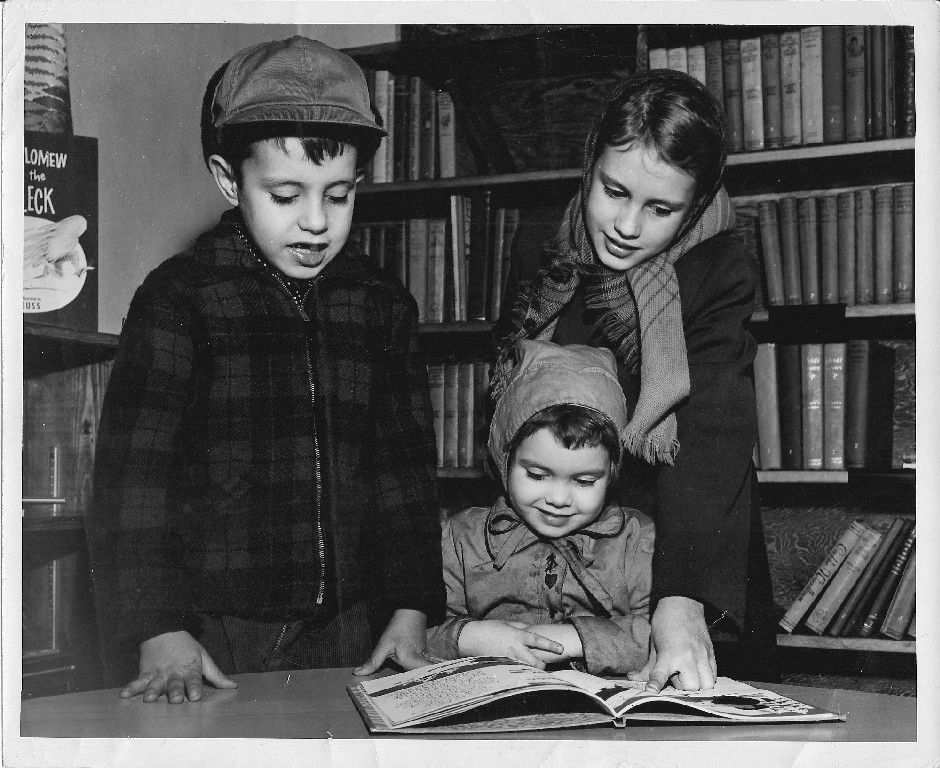 Note that we are oddly wearing our coats, hats, and scarves inside the library. The reason was that the library was cold inside because its heating system was down and being repaired. Evidently the librarians decided, since it wasn't freezing yet in November, that they would keep the library open. A news photographer ("Photo by Joe Lafferty, News Tribune" is stamped on the back of the photograph) showed up at the library to take pictures of its stalwart patrons. It caused quite a stir in our household and at my elementary school when the three of us were featured in an article in the newspaper.


8/19/11: I've been asked if and when I will join Facebook. I've been told by members of my writing group that if I want to attract and hold readers, I better share my personal life and promote my writing on a daily basis. After researching Facebook and talking to several writers who maintain active Facebook sites, I've decided that it is too public for me and involves too much trivia and too much work to keep current. I want to spend my time writing novels, which I have precious little time to do as it is.
Writing a blog on my website seemed, for a while, to be a good alternative to Facebook, until I fully realized what blogs have become today. Most are interactive, where the blogger writes an opinion or commentary and visitors feel free to comment and expect a timely answer. Other blogs are totally commercialized moneymakers with videos and business links. Neither appeals to me. So I've decided instead to make periodic entries into this writer's journal.