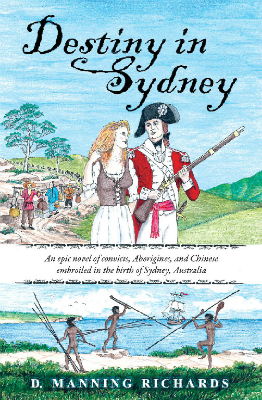 Destiny in Sydney


Adventurous and opportunistic, Scottish marine Lieutenant Nathaniel Armstrong is in charge of convicts on one of eleven ships sent in 1787 on a perilous voyage from England to the other side of the world to establish a British penal colony. He lusts after fiery Irish convict Moira O'Keeffe and surprises himself when he falls in love with her. Together they nearly starve in Sydney Cove while learning to farm the harsh land and deal with the Aborigines, whose lot is disease and unequal warfare.
Armstrong descendants deny their convict heritage and oppose the Chinese who come for the gold rush. Three Fong brothers suffer violence and despair as they fight to forge a place for themselves. Duncan Armstrong, rich and powerful, helps pass the White Australia Policy in 1901 to keep out the Chinese, while his cousin Eleanor works for women's suffrage and a "fair go" for the Aborigines.
----------
An excerpt of the novel, the first three pages of chapter one, may be read below following the synopsis of
Gift of Sydney.
Advance Review Copies of
Destiny in Sydney
were sent to historians, newspapers, book reviewers, and historical novelists to publicize the novel. Some of the praise quotes that were received are presented in the Author's Journal.
Destiny in Sydney
was published by Aries Books on July 1, 2012, in the USA, Canada, UK, France, Germany, and Australia. It is available both as a paper book and ebook. Click on the "AMAZON" button below to "Look Inside" the novel and read, for free, much of it before making your decision to buy the paper book or ebook:

Note: Sydneysiders are asking where the paper book and ebook of Destiny in Sydney may be purchased. The following bookstores carry my paper novel or can order it: Abbey's Bookshop, Ariel Books, Better Read Than Dead, The Book Haven, Co-op Bookshop, and Shearer's Bookshop. Many bookstores do not carry it because although Destiny in Sydney is being distributed worldwide by the largest US distributor, Ingram Inc., the smaller US distributor Baker & Taylor is more popular in Sydney. Unfortunately, like all books in Australia, my novel is expensive at $30 or more. The best price available anywhere is through online retailer The Book Depository in London, UK, www.bookdepository.co.uk , that ships free to Australia within ten days for a total cost of AUS$19.64.
The lowest price for the ebook of Destiny in Sydney may be purchased for US$9.99 (around AUS$10.40) from Amazon. If you don't have an Amazon Kindle ereader, simply go to www.Amazon.com, type in "free Kindle reading app" and select your reading device (Apple ipad and iphone, Android, PC and Mac computers, etc.) from the drop-down window and download the Kindle ereader into it. When you buy my ebook Destiny in Sydney, it will be downloaded into your new Kindle ereader in less than a minute.


************************************************************
************************************************************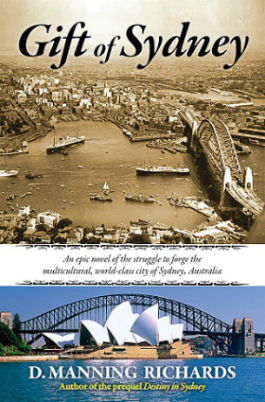 Gift of Sydney

Gift of Sydney is an epic novel of the struggle to forge the multicultural, world-class city of Sydney, Australia. It is the second in the series of novels about the history of the city and Australia.

In 1903, the wealthy and powerful Armstrongs are concerned about their "convict stain." The Fongs rail against the White Australia Policy that is driving Chinese out of Australia and preventing their relatives from immigrating. The Hudsons suffer under government programs that manage them as part of the vexing "Aboriginal problem." The country is rich from wool and gold but insecure. Its principal protector and trading partner, Britain, is 15,000 miles away. The three families all suffer in the world wars and the Great Depression, but experience a profound change when the racist White Australia Policy is finally rejected and a humanitarian policy opens the doors to accept the desperate Vietnamese boat people.

Once again, Richards's storytelling is impeccably researched, fast paced, action-adventure driven, and full of family saga emotion and drama. His two extraordinary novels together have the authenticity and authority of the finest historical fiction that strike a resounding chord of hope for all humanity.
This sequel novel was published by Aries Books on October 1, 2014, in the USA, Canada, UK, France, Germany, and Australia. It is available both as a paper book and ebook. Click on the "AMAZON" button below to "Look Inside" the novel and read, for free, much of it before making your decision to buy the paper book or ebook:


*********************************************
*********************************************
(The first three pages of Destiny in Sydney)

Chapter 1
New Horizons
Pain . . . Rolling over onto my good side, away from the ache, I try to put disturbing thoughts of death out of my half-awake mind. Gradually falling back to sleep, I'm drawn through a haze by a beckoning, distant figure . . . myself . . . standing on a gunwale. I point my cutlass down at enraged, screaming men in a smaller ship. Grappling hooks thrown and set. Cannon booming. Acrid smoke from exploding gunpowder fills my nostrils. In mortal fear, I'm screaming too, but can't hear the sound of my own voice.
The captain gives the command to board. Calum jumps, and I follow, landing on others bunched up along the rail. Losing balance . . . teetering . . . grasp a shroud to keep from falling. An American seaman misses with a pike thrust; I grab the shaft and swing my cutlass, gashing the side of his head. He drops, and I jump onto the deck. A rebel shoots me. Ahhh-God! Falling. A sword slashes my face. Somebody collapses against me. There's a lot of blood—Calum's blood!—gushing from a neck wound. I press my hand on his neck to try to stop the blood—
Marine Lieutenant Nathaniel Armstrong jolted awake. Groggily, he moved his legs to the edge of the bed, pushed himself up, and sat there rubbing his eyes. He rose unsteadily, walked to the washstand, lowered his head over the basin and poured a pitcher of water over it, supporting himself on a bent arm. Water dripped from his long hair into the basin.
Damme, why did I dream that again? he asked himself. . . . my first battle and the slow, agonizing death of Calum . . . just eighteen. It must be because I'm home.
The dawn flamed through the narrow opening between the drawn curtains and cast a long shaft of sunlight across the floor and up the wall. Nathaniel dried his face and hair in a towel and collected his thoughts. After putting on his breeches and a shirt, he walked barefooted from the bedroom, down the hall, and into the parlor, dimly lit by slivers of morning light, to a closed coffin sitting on the dining room table. Opening the lid, he looked at the corpse of his aunt, his surrogate mother, who had raised him from the age of eight. She appeared at peace with a slight smile; even in death at age fifty-nine, her fine-featured face was handsome.
He had rushed home from London on New Year's Day 1787, upon receiving a letter that she was gravely ill, but arrived too late—the final evening of her wake. An old friend, Mr. Fiddes, invited him to stay overnight with his family, but Nathaniel declined, wanting to spend a last night in his boyhood home. His aunt's body held no fear for him, nor ghosts; he had made peace with death's specter.
It's ironic, Nathaniel thought as he looked at his aunt, she'd been worried I'd die first. She tried to keep me from joining my father's regiment because of the war and her fear that I'd be killed—and I was afraid I was goin' to miss it! Who would have believed back then that the war with our American colonies would go on for years longer?
He recalled that she had said, "I told you courageous stories about your father and gave you adventure novels because you were being raised without a father, not to encourage you to follow in his footsteps. You have too much to offer to throw it all away in the marines."
But her concerns had had no effect on him, an ungrateful youth, who at sixteen joined the marines with his best mate Calum, leaving behind the only person who had stepped forward to raise him. Later, he realized that she wanted him to be around into her old age. A widow without children, she had no one else.
Feeling guilty, Nathaniel patted her cold hands resting on her Bible. Remembering how she loved poetry and appreciated his poor efforts at writing it, he opened the curtains of the window to let the sun stream in and sat down at her writing table. He would write an elegiac poem for her alone; he would not make a copy. It would express his sorrow and hope that he would see her again to make amends for his selfishness. Writing quickly, he allowed his feelings to flow:
Death is not the end, but the beginning,
For one whose goodness has shone.
The sorrows of this world receding,
You begin the journey alone.
So pure of heart, you have nothing to fear,
For no pain or suffering should you bear.
Having lived a life of righteousness,
A just Lord will surely provide happiness.
A place where cares are relieved;
Life's mistakes are atoned;
Family and friends are rejoined—
No longer alone.
He withdrew the Bible from beneath her folded hands, placed the poem between the cover and first page, and returned it to beneath her hands.